Dana Steel will make an investment to build a 50,000-square-metre facility in KEZAD in accordance with the terms of the agreement.
The new complex, which has a rolling capacity of 500,000 metric tonnes, will make it easier to integrate the company's continuous galvanizing and continuous color coating lines backward.
By substituting new "Made in UAE" supplies for imported raw materials like cold rolled complete hard coils, this strategy will increase Dana Steel's capacity to produce in the GCC.
KEZAD Group is expanding its support for the Abu Dhabi Industrial Strategy, which seeks to more than double the size of the emirate's manufacturing sector to AED172 billion by 2031 through a series of transformational programmes, by serving as the platform for Dana Steel's first facility in Abu Dhabi.
Dana Steel is one of the biggest and most cutting-edge producers of steel coils and sheets that have been hot-dip galvanised (HDG), aluzinc (AZ), prepainted (PPGI), prepainted (PPAZ), and prepainted (PPAL).
According to Mohamed Al Khadar Al Ahmed, Chief Executive Officer of Khalifa Economic Zones Abu Dhabi – KEZAD Group, "Investors like Dana Steel are choosing our industrial ecosystem as a base from which to grow their operations in the UAE and around the world" because of the cutting-edge infrastructure and effective transportation network provided by KEZAD and Khalifa Port.
We look forward to assisting Dana Steel on its mission to service customers and broaden its global reach by enabling vertical integration of their manufacturing supply chain.
According to Dr. Ankur Dana, CEO of Dana Steel Industry, "We are pretty delighted to start this landmark project in KEZAD, which builds upon our efforts to add value for our clients across continents," as the demand for high-quality steel products is expected to increase globally. This project, which will be our ninth industrial facility in the UAE, was chosen by us due to a number of distinctive criteria, including the world-class infrastructure available, seamless connectivity to other markets, and simple access to natural gas at affordable prices.
In addition to being Dana Steel's first business endeavour in Abu Dhabi, the agreement with KEZAD Group will also mark the opening of the first Cold Rolled (CR) and Hot Rolled Pickled Oiled (HRPO) steel facilities in KEZAD.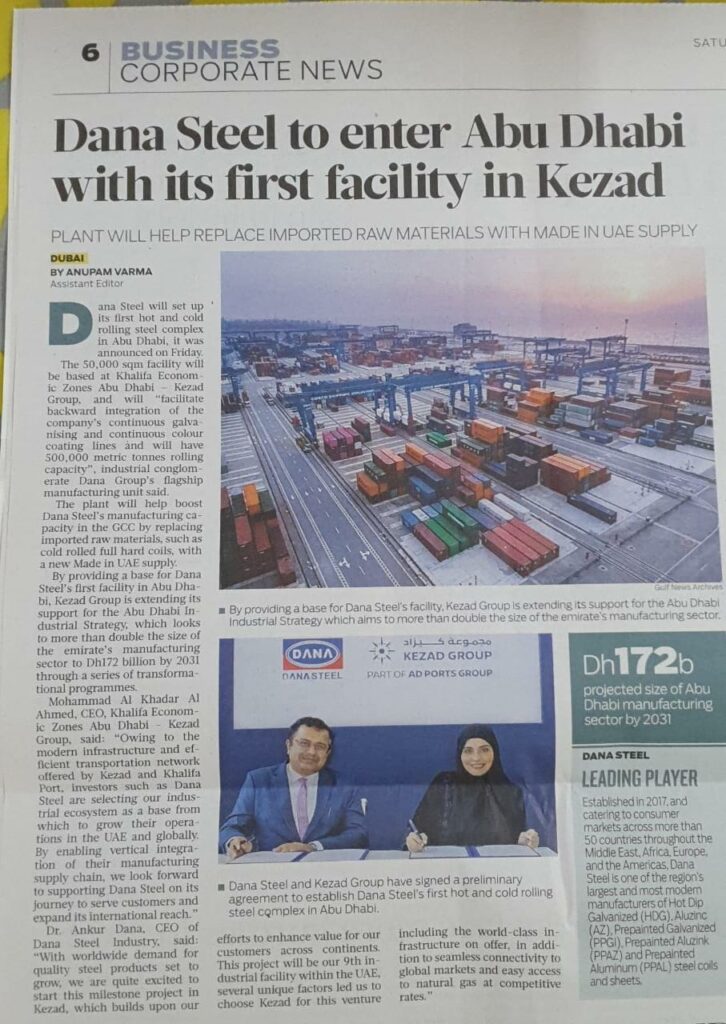 GULF NEWS, KHALEEJ TIMES, GULF TODAY
https://www.saudigulfprojects.com/2022/12/kezad-group-and-dana-steel-signed-agreement-for-steel-complex-in-abu-dhabi/embed/#?secret=gp0frr1hBw#?secret=2y6jk3ZUMQ
https://www.khaleejtimes.com/business/kezad-group-and-dana-steel-to-establish-new-complex-in-abu-dhabi
https://www.thenationalnews.com/business/economy/2022/12/30/kezad-teams-up-with-uae-based-dana-group-for-steel-project-in-abu-dhabi/
https://www.zawya.com/en/press-release/companies-news/kezad-group-advances-support-for-abu-dhabi-industrial-strategy-with-500-000-metric-tonnes-dana-steel-project-pwmfywye
https://www.constructionweekonline.com/projects-tenders/abu-dhabi-kezad-dana-steel-seal-the-deal-for-hot-and-cold-rolling-steel-complex
https://www.wam.ae/en/details/1395303115390
https://gulfnews.com/business/corporate-news/dana-to-set-up-50000-sqm-steel-complex-in-abu-dhabi-1.92946386
https://www.zawya.com/en/business/manufacturing/kezad-group-advances-abu-dhabi-industrial-strategy-with-500-000-metric-tonne-dana-steel-project-ahk7oekq
https://www.mediaoffice.abudhabi/en/economy/kezad-and-dana-steel-establish-a-complex-for-production-of-hot-and-cold-steel-in-abu-dhabi/
https://www.transportandlogisticsme.com/global-news/dubai-customs-air-cargo-centers-process-81162-items-in-11-months